Commercial Roofing in Memphis
Commercial Roofing Company In Memphis
Pinnacle Roofing and Restoration are commercial roofing professionals in Memphis, Tennessee. From small to large commercial roofing jobs, we guarantee our results, materials, and labor. We take pride in our excellent customer satisfaction and work hard to provide the highest quality roofing materials and labor available at a fraction of the cost of our local competitors.
Your roof protects your valuable assets and is the most important part of your commercial building. If your commercial roof in Memphis is showing any signs of damage, such as broken tiles, torn shingles, or obvious leaks, we encourage you to call for an inspection before the damage worsens. There is no obligation with our roofing inspections! Our trusted team of professionals in Memphis and the surrounding areas are expertly trained in replacing and repairing your roof with only the highest quality materials. Our commercial roofing systems include:
Built-Up Roofs (BUR) Systems

Single Ply Roofing Systems

Modified Bitumen Roof Systems

Roof Coatings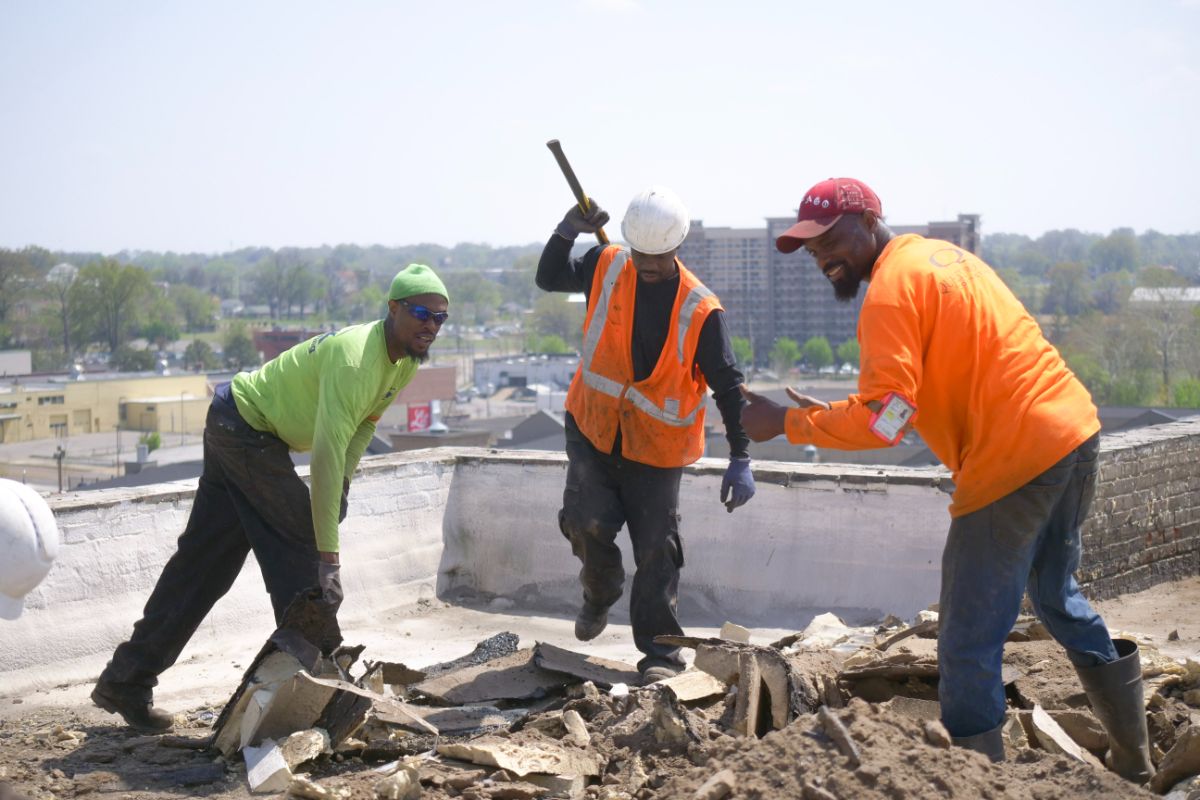 Built-up Roofing Systems for Commercial Roofing Projects in Memphis
Built-up roofing systems, or BUR for short, is among one of the most commonly installed commercial roofing systems used in Memphis, due to its wide variety of protection purposes and classically acclaimed durability. BUR systems are made up of two central ingredients, both serving a specific and important purpose. Bitumen (asphalt or coal tars) provides the roof with waterproofing and strong adhesion, while ply sheets ("felts") prevent the roof from tears, punctures, and other damage. These BUR surfacing elements are often coated to protect against UV radiation, early aging, and even to minimize indoor heating and cooling expenses.
Modified Bitumen Commercial Roofing Systems
Probably the most commonly installed commercial roofing system in the country, modified bitumen roofing enjoys a great deal of popularity due to its dual protective materials of asphalt and rubber or plastic membranes. This unique system provides top-notch defense against inclement weather, prospective punctures, and other types of external damage. Modified bitumen commercial roofing systems in Memphis have an asphalt base, specifically targeting both low-slope and flat roof shapes, and are accented with modifiers that impart the system with either rubber or plastic-like features. These systems are made up of several layers, and they are generally installed as two-ply systems that must be covered.
Single Ply Commercial Roofing Systems
Single Ply commercial roofing systems offer a wide range of materials to select from, making it a practical choice for building owners across the country. As an industry, Single Ply Roofing recognizes three categories of single ply roofing membranes, though the two most common are referred to as thermosets and thermoplastics. These membranes can be defined by the type of polymers and other materials from which they are made.
Roof coatings for commercial roofing projects
Whether you've invested in modified bitumen, single ply, or built-up roofing system, we want to help you keep your roof in the best condition for as long as possible. By applying a roof coating, Pinnacle Roofing and Restoration is able to protect your commercial roof against multiple potential threats, ultimately saving you time, money, and constant repairs.
Roof coatings are liquid-applied roofing membranes that are designed to protect both old and newly installed roofing systems. These can elongate the lifespan of a roof by as much as 25 years. Most often, they take the form of acrylic coatings, asphalt coatings, polyurethane coatings, and silicone coatings, each having a unique formula that helps its individual performance. For example, acrylic coatings may be the best option for waterproofing, while asphalt coatings are great for cold weather resistance, but they all apply high-performing layers to your commercial roof in Memphis that will provide multiple forms of protection.
Our team responds to all requests quickly and efficiently, and we offer FREE roofing evaluations and estimates. Click here to schedule yours.